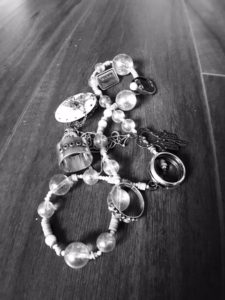 Over a big family reunion my aunt brought a box of jewelry she no longer wears from her own collection including items worn by my grandmother. Her nieces and great-niece took a look to see what they wanted. It was fun to hear some of the personal stories connected to items of jewelry. Some pieces were made by my grandfather. I'd love to have a ring made by my grandfather but none of them fit my fingers or were my style. I'm happy seeing someone else in the family able to wear them. I like the fact that my aunt let us pick what we'd actually wear instead of giving us items that would clutter our own jewelry collection. Whatever was left she said she would either sell or donate.
That was one way to pass on unwanted jewelry and not the only way. If you're thinking about downsizing your jewelry collection or passing an heirloom to family or friends whether now or via will, my colleague, Aimee Berrent of A Matter of Brilliance, offers tips to keep in mind to make the process easier:
A little planning goes a long way. Go through your jewelry box and see what you feel comfortable parting with. If it doesn't fit your lifestyle, consider giving it along with joy to a family member or friend.
Make it meaningful. Share your emotional ties to the piece orally or on paper. This way the recipient will know why the piece is important to you and the family history.
Include the paperwork. If an appraisal was done on the jewelry, provide that document. If there isn't one and you think the piece may be valuable, get an appraisal from a reputable jewelry appraiser.
Spell it out. If you're not ready to part with your heirloom jewelry yet, make sure that your family knows how you want to distribute pieces. This can bypass hard feelings and disputes later.
Make it equitable. Yes, giving your beloved costume jewelry necklace with lots of sentimental value to your younger daughter may be meaningful, but if your older daughter gets a beautiful strand of pearls, you may be setting the scene for hard feelings. Getting an appraisal can help balance the scale.
Be practical. Younger relatives may not appreciate your silver ice bucket, even though it was a gift from your great-aunt Anna. Think about their lifestyles and don't hesitate to ask them honestly if they'd like a certain piece. Be prepared to graciously accept a 'no, thanks.'
If you wish to create an inventory with photos of your jewelry and heirlooms for your record, and allow your loved ones to choose what they want, I can create a document of your collection.
S3 wishes all clients and readers a wonderful holiday season.