Do you find yourself cleaning your home only when hosting a dinner/party or having out of town friends/family members stay with you? Is that usually the only motivation to clean your home? Want a clean home more often, then host more. Volunteer to host a meeting in your home, book club, a potluck or a simple a tea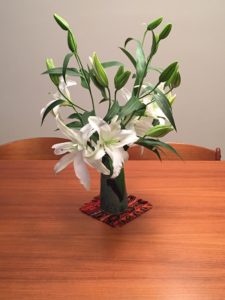 time. "Just because" get togethers for anything are great! I know that in my case, I'm more likely to cook when I'm feeding guests. It means I get quality time with friends or family as well as better meals.
Having a table top clear makes it easy to set the table and be ready for drop-ins. If it means putting on a center piece or bouquet of flowers to help keep the table clear, do it. Want the entry way table to look clean? Place a bowl or plate to hold keys or add a hook on the wall so no one needs to put anything on the table when they come home. Add decorations to the entry table so it always looks nice. Remember, keep it simple to avoid clutter.